Welcome Democrats!!

This Site is dedicated to Democratic Causes,
with an emphasis on the Santa Clarita Valley Area We do NOT represent a specific Democratic Club!

If you are looking for the Santa Clarita Valley Young Democrats, Please visit their site:



scvyoungdemocrats.com



If you haven't yet registered to vote, now there is no excuse:
Online Voter Registration is now available!!
IF YOU'D LIKE TO RECEIVE UPDATES BY EMAIL
PLEASE CLICK HERE
Our Mission:
To encourage young democrats in the SCV area to become involved
in the political process and to help further the cause of the Democratic Party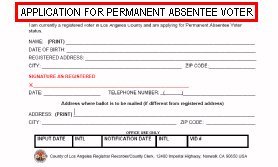 For a listing of all documents on this site, please see the Site Index
Site Contacts:
Minerva Williams & Todd Hoover:
&copy 2009 Mighty Thunder Web Design
Visitors So Far: 25679
2011 Truman Awards Pictures In Album: California State Insurance Commissioner Dave Jones, Todd Hoover, Minerva Williams, Agi Kessler, Richard Carter, Jodel Hawes, Roz Teller, Eric Bauman, Barbara Wilson, Mary Jane Wagner, Edward Villapando, Laura Molina, Joseph Martin, Allan Cameron, Thom O'Shaughnessy, Chad Jones, Tauby Ross, Sheldon Kadish Carole Lutness, Rosemarie Fraser, Edward Headington, Michael Kulka
Minerva Williams & Todd Hoover
are running for the 38th Assembly District!!